About
Bavaria Equipment Trading LLC
Who We Are
---
Bavaria Equipment Trading (BET) LLC is a German managed company that has expanded operations in the Middle Eastern region, with its Headquarter in the UAE. BET has established a solid foundation on core values, sincere customer relationships and extensive experience in the field that spans over decades.
We are known for being one of the region's leading suppliers of a diverse range of European & American made Technical products. Through our "One Stop Shop" approach to all your engineering & consumables needs, we cover a comprehensive range of products, after sales services and rentals across a wide landscape of Industries.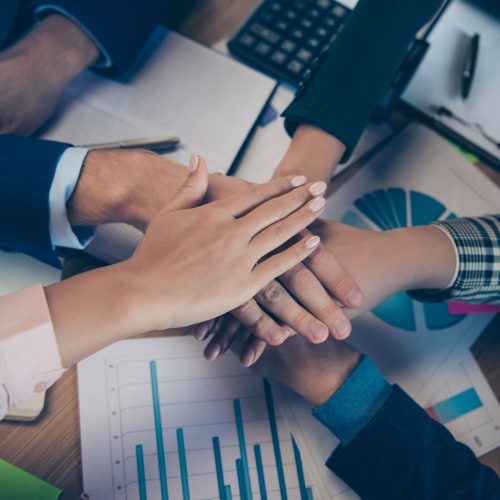 Our Mission
To become the most sought after 'One Stop Shop' for Parts, After Sales & Rental Services in the Middle Eastern Region.
Our Vision
In our pursuit to serve your aspirations, we aim to provide unmatched performance, unparalleled accountability and the highest-levels of satisfaction in the industry.
The geography of our business
You can find us in Germany, Spain, India, Qatar, United Arab Emirates & Oman.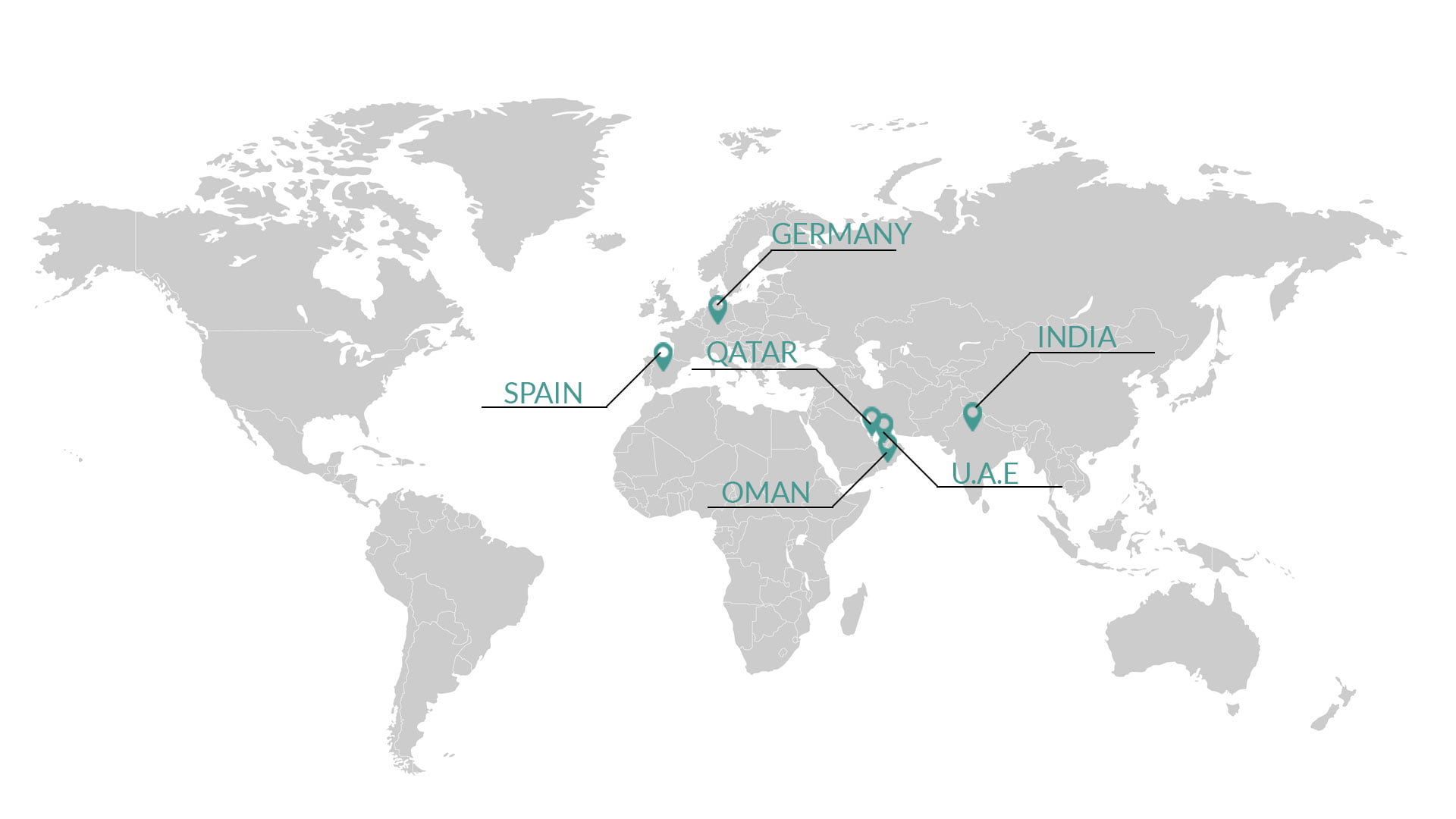 Our Infrastuctre
Our state of the art 60,000 Sq. Ft Regional Distribution Warehousing Centre is thoroughly equipped with delivery vans, pick-up trucks and ERP software that ensure that the deliveries to customer's premises, and to our branches across the Middle East region, are made in a timely manner. In demand products are stocked across all branches and on-line orders are linked to regional warehouses in UAE for smooth operations throughout the Middle East. Our supply chain team ensures first pick availability of up to 80% of wear and tear parts. Parts that are not readily available in principal warehouses can be made available within 2/3 working days. Our showrooms and warehousing are strategically situated across the emirates of Dubai, Sharjah, RAK, AUH and Oman to ensure that we serve customers consistently. Our end-to-end offering is designed to offer complete customer satisfaction.
We are committed to providing quality services
Bavaria Equipment Trading (BET) is committed to enhance the products quality and improved after sales services, Health & Safety of people and to reduce the impact of its operations on the environment through a process of continual improvement (Reduce, Reuse, Recycle ) and in statutory compliance with requirement ISO 9001:2015, ISO 14001:2015, OHSAS 18001:2007.
Our Quality, Health, Safety, And Environment Principles:
 Safe Work Place And Environment
 Excellent Quality
 On Time Delivery
 Reasonable Cost
 Good Relationships with our Customer and Suppliers
 Continual Improvement process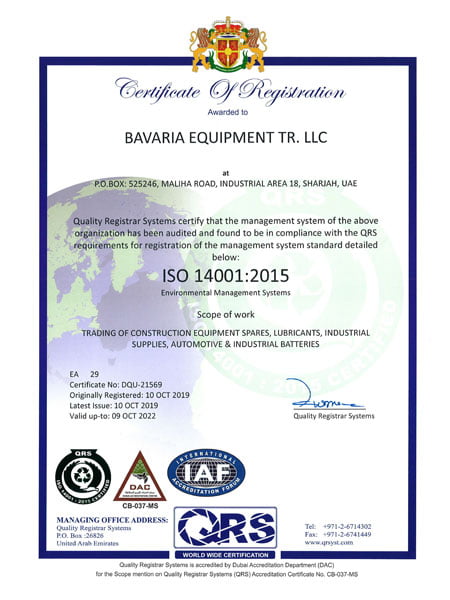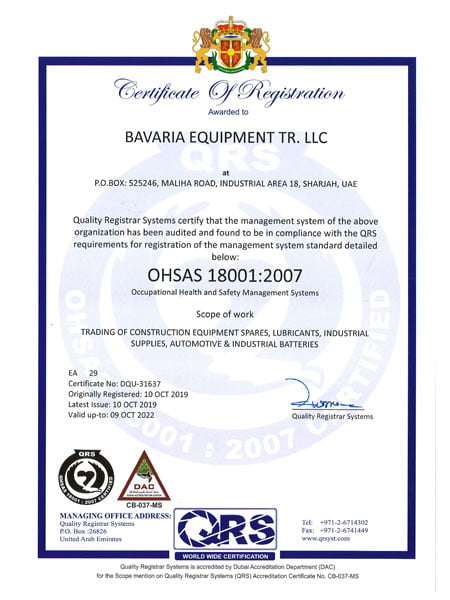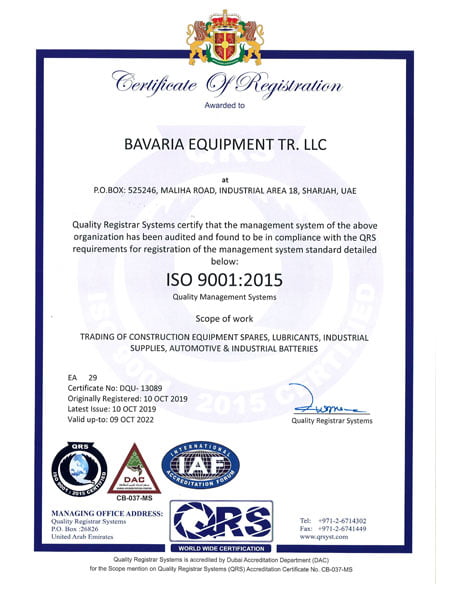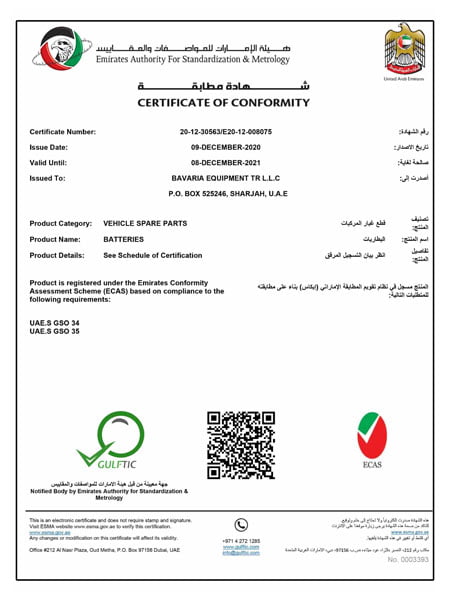 Standardization & Metrology